Valentines' Day is all about Love, Hugs, Chocolates, Roses and… Courage.
Love confessions are never easy to make… Pulling flower petals off, the "Do they love me, or love me not" guessing game gets butterflies in your stomach. You want to speak your heart out loud to that special someone, but your legs shake to take that first step?
Well, someone's got your back!
This Valentines', PenPen takes on Cupid's role!
From February 3rd to 14th, Cupid PenPen's special mailbox is open to receive all the secret love confessions that you want to make. Then, he will send it out on your behalf (can be anonymous), reaching your significant others', friends' and family's emails or Instagram DMs.
Fill out the form using this link, "Write or whisper" your secret confession to Cupid PenPen, and provide him that special someone's email or Instagram public account name. With no worries, PenPen will pull that bow and shoot that love arrow just for you!
Our Cupid knows the importance of love. To share gratitude to that trusted friend you've known for years, to appreciate our parents' unconditional love and, to let that special someone know, someone out in this world adores them deeply. 
Who knows? You might be receiving PenPen's love message in your DMs too! 
Side topic: I wonder if PenPen has a crush on someone… :)
Fill out the form here: https://shop.miniso.ca/pages/dear-penpen
---
January 2021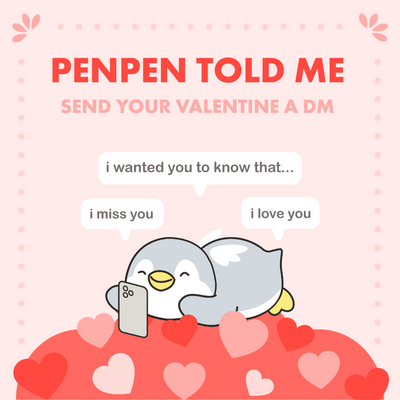 January 2021
READY TO EARN MINIFRIEND POINTS?
Become a Member Today